Middelburg – 70 Years after Liberation from Nazi Occupation
Friends – I have just returned from Middelburg, Holland. Saturday 01 November 2014 promised to be an exciting day, culminating in a parade in Dam Square, where my father and his 140 men received the unconditional surrender of General Wilhelm Daser and his 2000 plus troops. However, before the parade I was invited to a short ceremony and wreath-laying, accompanied by bag-pipes, at the war memorial gardens at Toerenvliedt.
I was deeply honored and touched by the words of Major Joe Lawler Brown and Sergeant Jack Hall, Battalion Intelligence Officer and "A" Company Runner in 1944, when they relived those traumatic days and the explosion of the Buffalo "Snipe" with the loss of six men.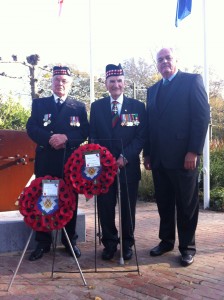 I would like to share with you the eloquent words of Joe Lawler Brown whose recce the day before undoubtedly saved countless lives:
Maior Joe Brown, CBE.
Veteran of the 7thl9th (Highlanders) Battalion The Royal Scots,
Saturdav.lst November 2014. Toorenvliedt Park, Middelburg.
I am deeply honoured as a surviving Veteran to pay tribute to Johnston Force,
its valiant leader Major Hugh Johnston, and the courageous Officers and men
of A Company 7thl9th Royal Scots who were supported by ltth Machine Gun
Platoon 7th Manchester Regiment and transported in Buffalos by 'A' Squadron
11th Royal Tank Regiment – a 140 men in total – who liberated Middelburg on
6th November 1944.
The Brigade Commander did not choose the direct route to Middelburg by
advancing along both sides of the Canal from Flushing which had just been
liberated. I heard him say that he anticipated too many casualties from the
well prepared concrete enemy positions. He decided to find a way we would
not be expected. He was determined to reach Middelburg by going through
the almost impassable and deeply flooded terrain which was heavily mined
with deadly overhead explosive devices erected to deter anyone trying to
reach Middelburg from the west.
But the Brigadier gave orders to myself and two other officers to find a way
through Field Marshal Rommel's lethal deterrents, which we did, and the route
was carefully followed by Johnston Force to surprise the enemy garrison by
getting into a position to the west and north ready to do battle but first they
gave the German General commanding Fortress Walcheren the chance to
surrender.
General Daser totally taken by the surprise with the arrival of armoured
vehicles full of Scottish soldiers, blustered that he could not possibly surrender
to a mere Major. However, Major Hugh Johnston was not deterred by such
nonsense, borrowing a star from a junior officer and promoted himself to a
Colonel and then told General Daser he must hand over his pistol and give the
order that all German Forces lay down their arm in surrender and assemble in
Middelburg Square. The General did as requested; handed over his pistol and
was escorted into captivity.
With the courageous help of the Local Resistance and Dutch Police as well as
the enthusiastic participation of the general population of Middelburg the
surrender was undertaken in a rapid but orderly manner. By between 1700
and 1800 hrs the Square filled with 2000 prisoners of war.
Major Johnston faced the formidable task of keeping such a large force of
prisoners under control. He gave orders for the four Vickers Machine Guns of
the Manchester Regiment to be sited with one in each corner of the Square.
These were supported by Buffalos carefully positioned with their 37mm guns
and with Officers, NCOs and men of 'A' Company The Royal Scots with fixed
bayonets patrolling the perimeter of the Square. 140 men held 2000 prisoners
from about L700 hours until relieved L0 hours later at 0300 hrs the next
morning.
I was only 23 at the time, Major Johnston a little older, and a much respected
Senior Officer who had been a medical student when the War started in
September 1939. This most able officer, despite the mighty responsibility of
forcing a General to surrender and faced with having 2000 prisoners, yet
having only 140 men to keep them under control untilJohnston Force could be
relieved early the next day, was an awesome task for any Officer no matter his
rank. But this young Major still found the time to order all the bakeries in
Middelburg to open up and bake enorrnous quantities of bread to feed his
2000 prisoners. His humanity shone through at that moment.
It is good to see Rory Johnston here today and to hear me say that his Father
Major Hugh Johnston was held in high regard by The Royal Scots (The Royal
Regiment) and his courageous Father decorated by The Netherlands with The
Order of the Bronze Lion.
As a veteran it is very special moment to stand at this place in proud
Remembrance of Brave and Courageous men who were killed when Buffalo
Snipe struck a mine during the advance on Middelburg.
Sergeant Jack Hall was one of the men in Snipe, suffered in that explosion, and
we are honoured he is here today to pay his own tribute at this never-to-be forgotten
and sacred place where six men died to Liberate Middelburg.